'National Collections in a Changing World'
19th-20th November 2020
Click on the images below to see the presentations from some of the speakers at this event
Thursday talks and workshops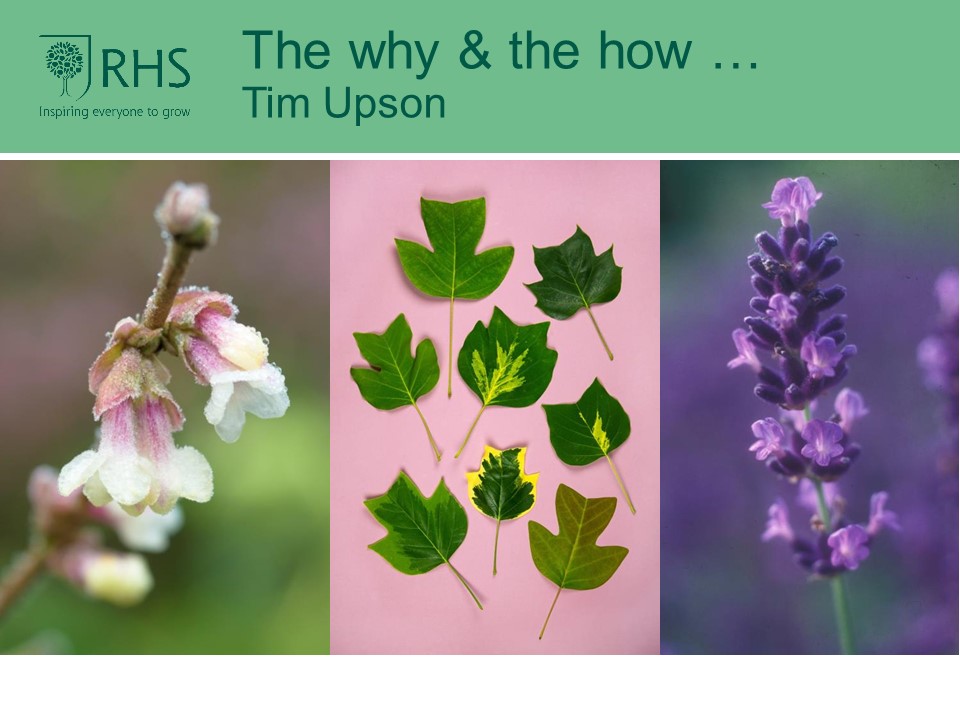 To open the conference, Tim Upson (Director of Horticulture, RHS) spoke on importance of keeping diversity within collections and showed how National Plant Collections have been growing and developing over the last two years.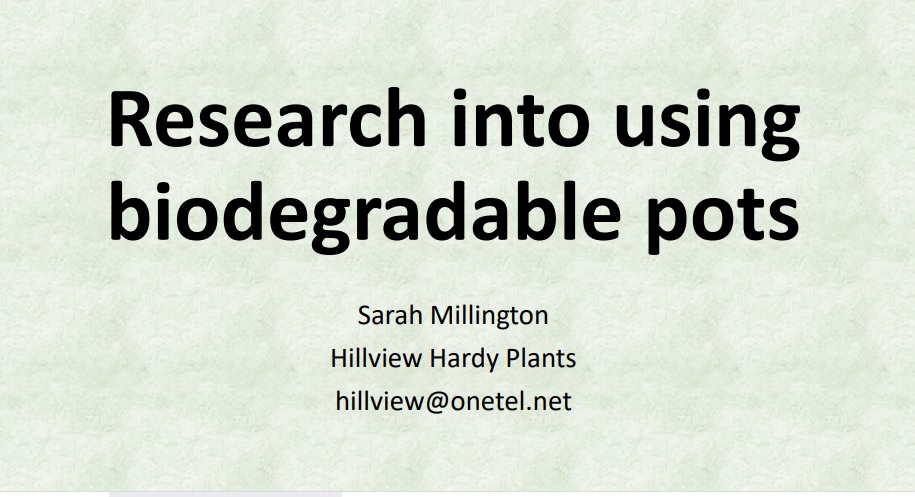 Sarah Millington, National Collection Holder of Primula auricula cvs. (raised by Richard Austin) presented the results of her MHort research into biodegradable plant pots, comparing the various different types and their suitability for use in a professional setting. Link to the full dissertation is on the final slide.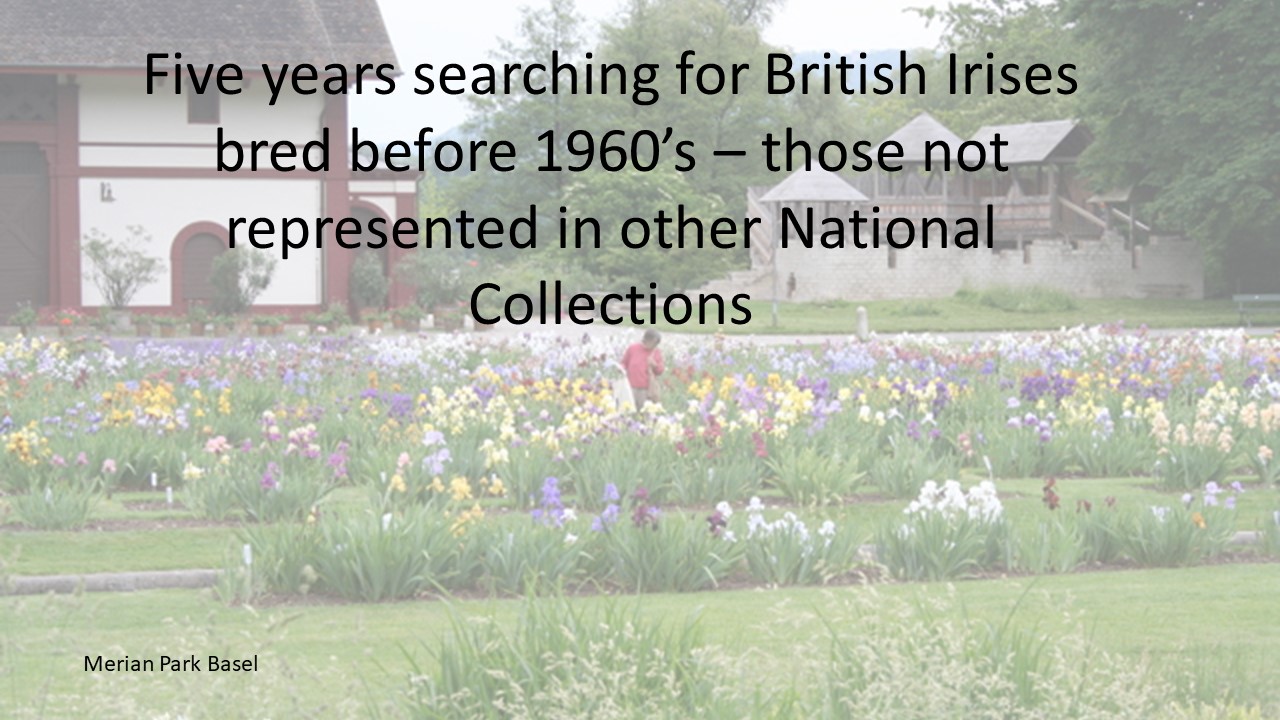 Sarah Cook, the National Collection Holder of Iris (Sir Cedric Morris introductions) gave a short presentation on a project looking for lost cultivars of pre-1960 British bred irises, and spoke of learning history through the medium of plants.
John Moore has been building a National Plant Collection of plants named for Sir Winston Churchill. In this video, he talks about the value of developing this collection at Churchill College, Cambridge.
Candide showed us a video of the work they are doing, bringing digital technology to gardens 'Curation and Cultivation in the 21st Century'
Workshops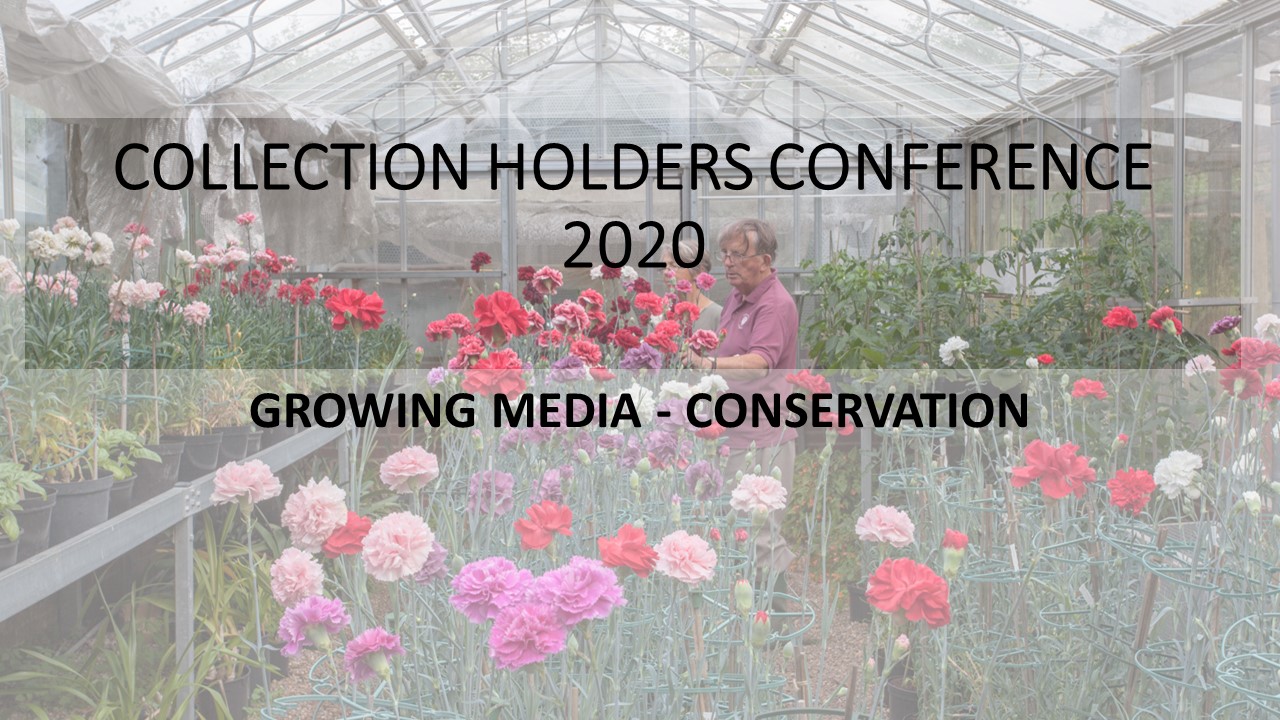 Jim Marshall, National Collection Holder of two Dianthus  collections led a session on current issues with using peat, alternative growing media, and case studies of collection holders experimenting with using these alternatives. We will be updating our Sustainability webpage with information from the session.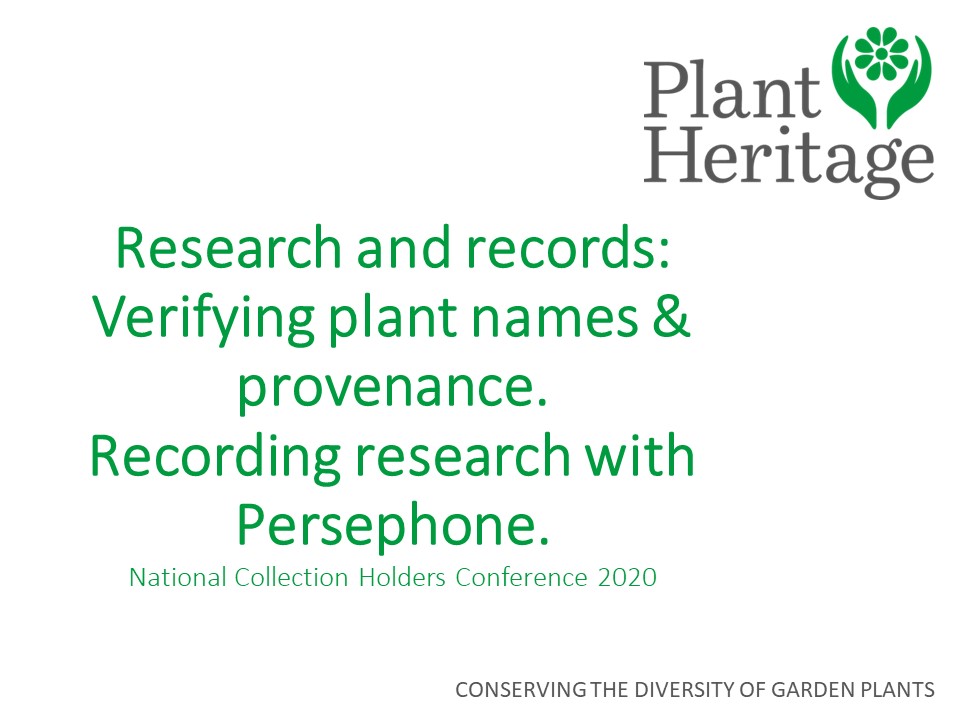 Researching your collection, led by the conservation team, set out some of the resources available to you when researching plants, and the people and places they are associated with. We will be updating the Research page of the website with more information from this session.
Friday talks and workshops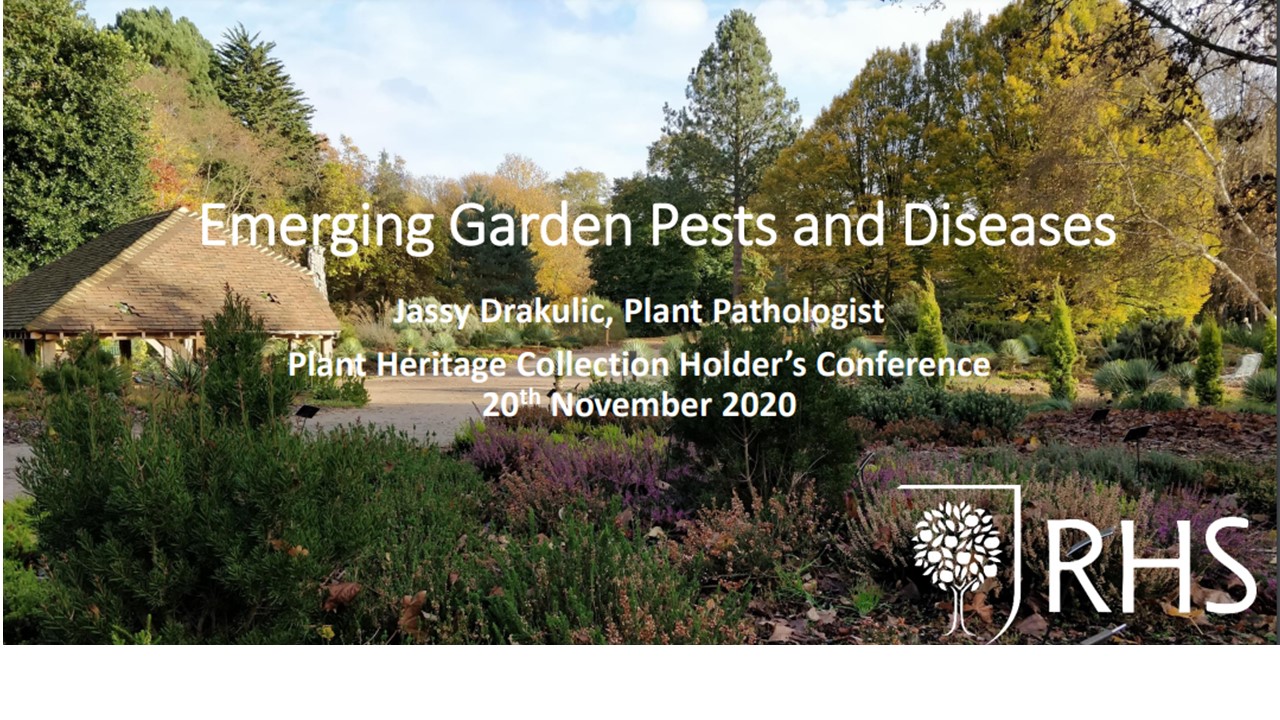 Opening day two, Jassy Drakulic, RHS Plant Pathologist gave a presentation on recently emerging plant pests and diseases, including signs to watch out for, control methods and how fast they are spreading.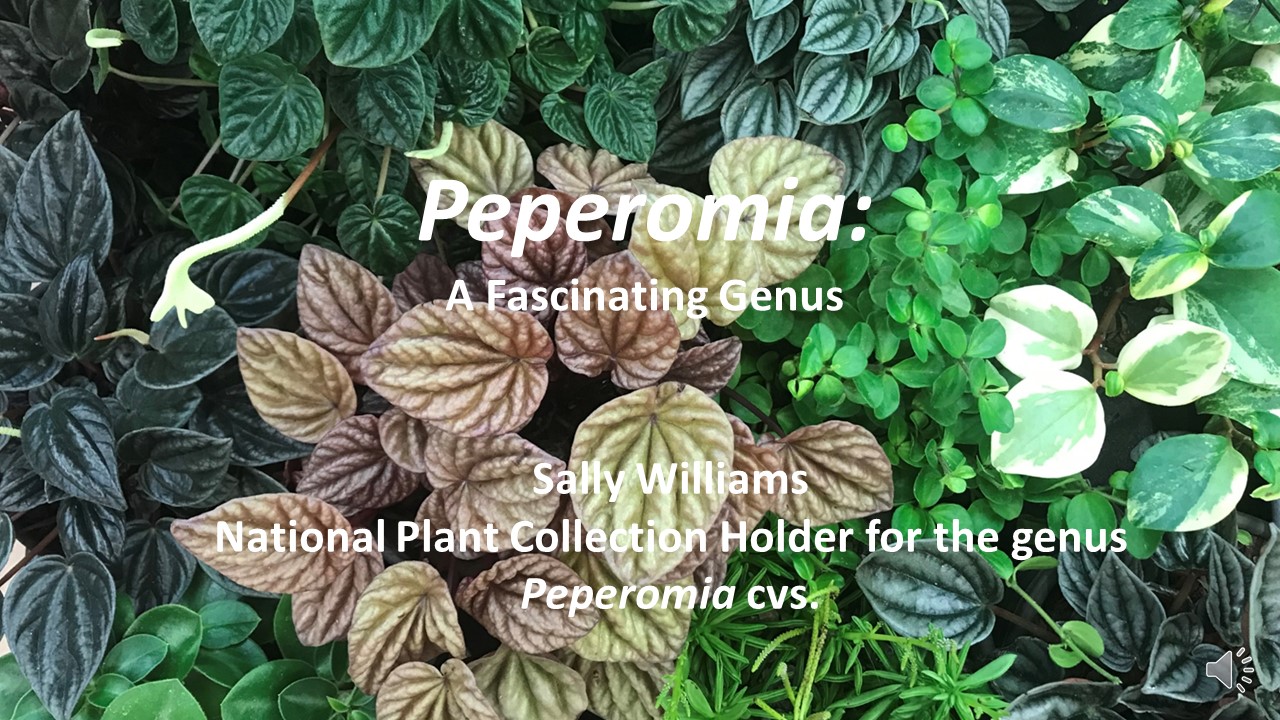 Sally Williams, gave a talk on the work she has been doing on her National Plant Collection of Peperomia as part of a MSc at Sheffield University. This looked at how the genus has adapted to a diverse range of habitats, resulting in very different foliage types.
Malcolm Pharoah, winner of the 2020 Brickell Award and collection holder of Astilbe, talks about how the response to the collection from visitors to Marwood Hill Gardens has changed over the years.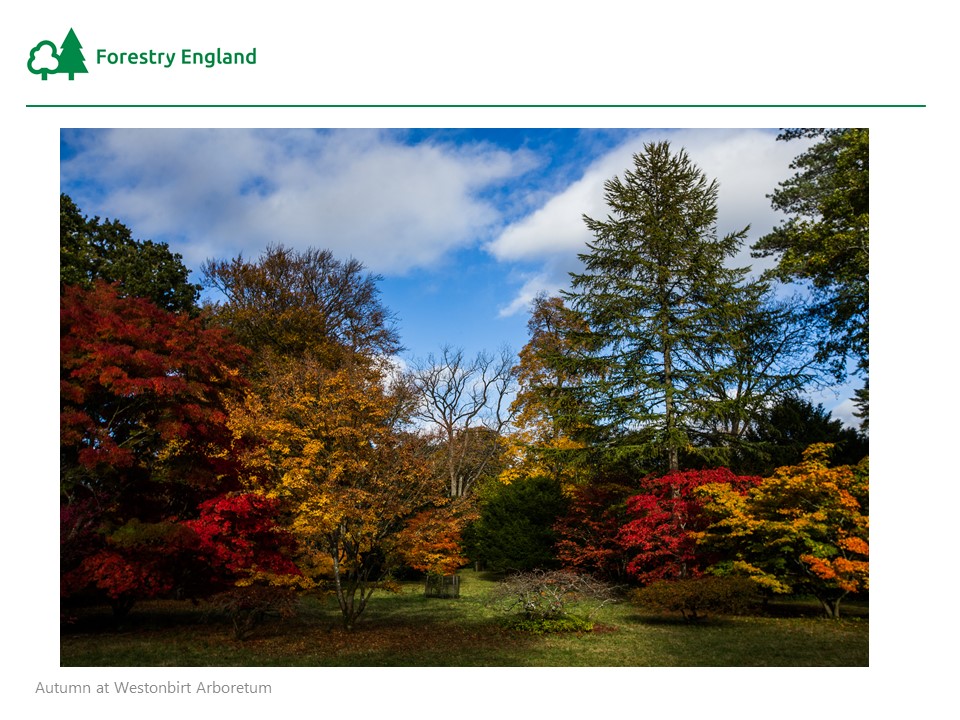 Andy Bryce, from The National Arboretum at Westonbirt, holders of five National Plant Collections spoke about the importance of preparing for a changing climate and climate proofing the trees and woodlands of The National Arboretum.
Workshops
Vicki Cooke and Penny Ross led a session on the Persephone database and plans for its future development.
Full Program
Thursday
10.30-11.15am. Introduction and Tim Upson, RHS. Why and how we hold plant collections
11.15-12.20pm. Collection holder talks
• Julian Reed. Climate adaptation in Polypodium
• Sarah Cook. 5 years searching for pre-1960 Iris cultivars
• Sarah Millington. Research into using biodegradable pots
• John Moore, Churchill College. The value of developing a collection of Churchill plants
• Candide. Curation and Cultivation in the 21st Century
Q and A session and short break
12.30-1.15pm. Workshops
• Growing media and conservation (Jim Marshall)
• Researching your collection (PH conservation team)
1.15-1.30pm. - lunchtime social and close.
Friday
2-2.30pm. Jassy Drakulic, RHS. Emerging plant pest and diseases
2.30-3.30pm. Collection holder talks
• Sally Williams. Peperomia leaf adaptation to different habitats and climates
• Malcolm Pharaoh. Changing response to collections by garden visitors
• Andy Bryce, Westonbirt Arboretum. Climate proofing the trees and woodlands of The National Arboretum
Q and A session and short break
3.30-4.15pm. Workshops
• Persephone plant recording database - where next? (Vicki Cooke and Penny Ross)
• Promoting your National Plant Collection (Gill Groombridge)
4.15-5pm. Fergus Garrett Biodiversity at Great Dixter – how an intensive flower garden can support some of our most threatened species
5-5.30pm - Round up and thanks (Jim Marshall) and evening social