Britain is a nation of gardeners, our long history of collecting, breeding and growing plants gives us a hugely diverse garden flora.
There are numerous charities supporting the conservation of nature or artefacts, but Plant Heritage is unique in its aims to conserve and cherish garden plants.
Why conserve garden plants?
Plants have always been selected and bred, whether for their beauty, flavour, scent or other reasons. This breeding involves an enormity of human effort and inventiveness that is wasted if the plants cease to be grown.
Climate change, the advance of new pests and diseases, loss of gardens, a diminishing nursery trade and lack of knowledge in the general population all conspire to reduce the diversity of our garden flora. If garden plants go, a tantalising slice of social, cultural and horticultural history dies with them.
Plant Heritage aims to maintain the diversity of our garden plants through the National Plant Collections, our Plant Guardians scheme and our network of local groups.
We aim to conserve the knowledge and information about our garden plants though our plant records system, Persephone.
Why does this matter?
Garden plants are valuable for many reasons
Reference
National Plant Collections are living reference libraries where all the plants in a genus or group can be seen together, compared and researched. When funding for botanic gardens and parks is under threat, the need to earmark, support and conserve these collections becomes more urgent. A collection holder can become the authority/expert on a plant group, able to provide advice, conduct research and be a resource for others.
Historical
The plants collected from around the world by plant hunters or bred by the head gardeners on country estates are as much a part of our history as our stately homes and art. They feature in stories, legends, works of art and songs, providing a living link to our ancestors and culture. National Plant Collections recognise the value of this history and help preserve it.
Horticultural
From cottage gardens and allotments to the grand estates, they were all founded on plants such as old pinks, florists' violas, extravagant tulips, Malmaison carnations and dainty auriculas. These often need specialist cultivation and may represent a body of knowledge built up over a lifetime. Sadly, these specialist skills are easily lost along with the plants so by keeping the plants in National Plant Collections, we are also keeping the knowledge about them.
We're not all about the past though - there are constantly new developments in plant breeding and the best of these will enrich our gardens and National Collections for years to come.
Our conservation strategy
Click on the image below to read our current strategy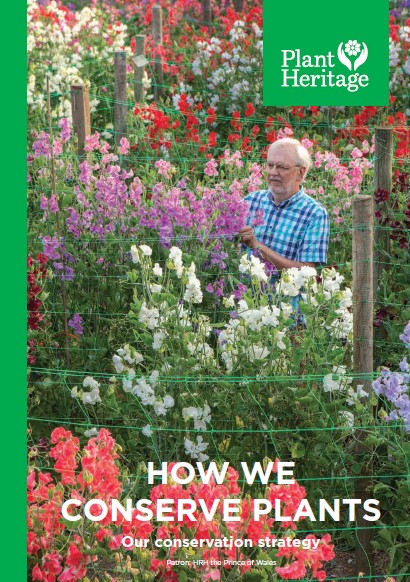 Global context
The world of plant conservation is constantly changing and Plant Heritage has a role in supporting this in order to ensure resilience to environmental and societal change.
We were founded under the principle that we should '…conserve the unique gene pool of accumulated variation from centuries of selection and breeding, a resource of great economic potential and heritage value.' (Brickell, 1977).
This need not only remains but has been strengthened through the Convention on Biological Diversity 2022 Kunming-Montreal Global Biodiversity Framework, which sets as one of its long term goals that 'genetic diversity within populations of wild and domesticated species, is maintained', with a target by 2030 'to maintain and restore the genetic diversity within and between populations of native, wild and domesticated species to maintain their adaptive potential, including through in situ and ex situ conservation'.
As an example of ex situ conservation of domesticated species, National Collections are contributing to global efforts to halt biodiversity loss.