Claire 
Claire is a member of our Surrey Group, and simply loves plants!
"As someone who has always enjoyed nature and plants, I was naturally drawn to Plant Heritage. I first came across the charity at a day out to Wisley gardens in Surrey.  I joined four years ago. Since I was a child I have always had at least one plant, I now have quite a few!  I was drawn to the fact I could get hold of unusual and rare plants as a member of Plant Heritage, and was intrigued that I could become a Plant Guardian for these plants.  It may seem daunting, you may lose a few plants along the way.  However when you manage to grow these specimens, the pride and joy of seeing them develop and grow is invaluable.
I started propagating last year for the Plant Heritage plant exchange.  This brilliant idea is a yearly plant swap where you obtain plants of your choice for free.  As a member of Plant Heritage you can choose the plants you would like from the substantial list.  I have attended so many propagation events, garden parties and talks that the Surrey group provide that I have picked up enough knowledge to not only house these unusual plants, but I now have the ability to grow more of them and share with others.  The charity enables you to meet such a wide range of people who are gardeners and horticulturists, that you are always learning and picking up tried and tested techniques to help you grow the plants you like.
I know the work we do raises funds which are important to keep the conservation of plants current, but it also gives me so much pleasure time and allows me some relaxing time in amongst my busy working life and raising my family."
Philip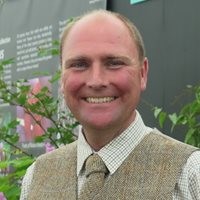 Philip is Head Gardener at Walmer Castle, and holds the National Plant Collection of Hakonechloa macra & cvs, Ophiopogon japonicus cvs, and Aspidistra elatior & sichuanensis cvs.  He is also National Plant Collections Coordinator for the Kent branch of Plant Heritage.
"I joined Plant Heritage a few years ago because I was thinking of starting a National Plant Collection, which was something I always wanted to have.
Plant Heritage is an organisation very close to my heart. I am a self-confessed plantaholic and it is nice to be with a group of people who are passionate about plants too! The journal that you receive twice a year is brilliant as it really focuses on specific plants.
I got my first collection status in 2014 and since then I have had displays in the Plant Heritage zone at RHS Hampton Court Palace Garden Festival (another thing I had always wanted to do), and I became Collections Coordinator and  Chairman for the Kent group this year. Being Collections Coordinator is great fun. Each collector is so fond of the plant they collect, so you can geek out together without anyone thinking it is odd! It is also very nice to provide the help (that I once needed myself) to new potential Collection Holders."
Read about more of our members in these profiles from Garden News Magazine: