Talk
'Trees, A Cut Above The Rest' by Tony Kirkham
---
A talk by Tony Kirkham. 
Attend in person in Cobham or via Zoom.
The deadline for requests for an invitation for this talk is 11am on the morning of the event.
(Please note the change in date of this talk originally published Thursday 14th March 2025)
Postponed from 13th October 2022 we are delighted to welcome Tony to Cobham in 2024!

Tony's talk will include topical issues around trees with tales of modern and historic plant collectors. It will be well illustrated and cover propagation techniques, up to date planting and pruning of trees, the threats to our treescape and what we should be doing to preserve our trees.
The evening will include a plant sale of both common,  rare and unusual plants grown by Surrey Group Members, a raffle and the opportunity to enter the 'Flower of the Meeting Competition'. 
Doors open 7:00pm talk starts 7:30pm
Refreshments will be available.
If you are unable to join us physically in Cobham but would like to join us this talk will be given via Zoom.  An invitation will be sent out to all Surrey Group Members for whom we hold an email address a few days before the talk.  If you are not a Surrey Group Member, but would like to join us for the talk, it is available for free to all Plant Heritage members and a suggested donation of £5 to the Surrey Group for non-members. 
If you would like to join us via Zoom or would like some further information please contact us at surreyph@gmail.com
Tony Kirkham MBE, VMH
Following an apprenticeship in the forestry industry and 2 years as an arborist, in 1978 Tony started at The Royal Botanic Gardens Kew on the 3-year Diploma course, graduating in 1981 with honours.
He was the Head of the Arboretum, Gardens and Horticultural Services, responsible for the management and curation of over 14,000 trees in the collections and curated and managed the hardy shrub collections as well until July 2021 when he retired after 43 years' service.
Since the great storm that depleted the tree collections in 1987, he has participated and led several plant collecting expeditions to Chile and the Far East of Asia, including China, Taiwan, Japan, S. Korea and the Russia Far East. he has co-authored several books on his travels including: "Plants From the Edge of the World" for Timber Press and "Wilson's China: A Century On", which follows the travels of Ernest Wilson in Western China.
In 2004 he completed the revision of the "Pruning of Trees Shrubs and Conifers" with Timber Press and more recently has written "Essential Pruning Techniques" and in 2019 the Haynes Workshop Manual of Trees and "Remarkable Trees" for Thames Hudson. His latest book due out in September 2021 is called "Growing Trees" and is a general guide to growing trees in the garden.
He has featured on several tree related TV programmes, including "A Year at Kew", "Kew in Bloom" and presented two series of "The Trees That made Britain" for the BBC. More recently he featured with Dame Judi Dench in "My Passion for Trees". He represents Kew as chairman of the RHS woody plant committee and sits on the RHS awards committee, the scientific and education committee of the International Dendrology Society, Action Oak, the Queen's Green Canopy" and is a trustee and chairman of the advisory board at the Chelsea Physic Garden and TROBI, (Tree Register of the British Isles) He was made the Vice President of the Arboricultural Society and awarded the AA Lifetime achievement award in 2019. He lectures internationally and regularly writes many popular articles and papers.
In 2009 he was awarded the Associate of Honour by the RHS for distinguished service to horticulture, the RHS Victoria Medal of Honour in 2019 and an MBE in 2019 for services to the Royal Botanic Gardens, Kew and Arboriculture and made an Honorary Lifetime fellow of the Arboricultural Association in 2015.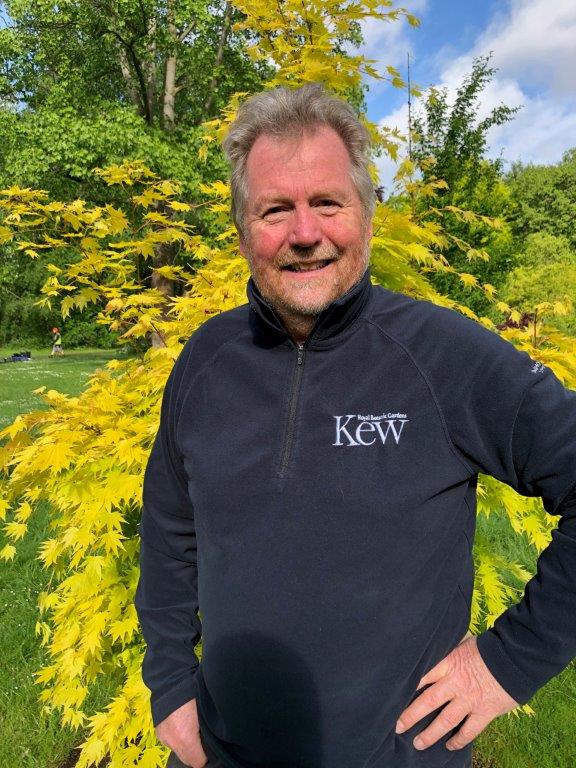 Event Start Date
05 March 2024 7.00pm
Event End Date
05 March 2024 9.30pm
Cost
Free to Plant Heritage Members & Suggested Donation of £5 for Non- Members
Event Location
By Zoom or at St. Andrew's Church Hall, Churchgate House, Downside Bridge Road
Cobham
Surrey
KT11 3EJ
Event Contact
David Ford
Telephone
07879 443606
Contact
surreyph@gmail.com