Brickell Award 2023 presented to Saxifraga specialist, Adrian Young at RHS Hampton Court Palace Garden Festival
On Monday 3rd July Adrian Young was awarded the Brickell Award 2023, for his extensive research into his Saxifraga National Plant Collections. The annual in-house award is named after Plant Heritage's founding member and current Vice-President Chris Brickell and celebrates excellence in cultivated plant conservation.
The judges applauded Adrian's ongoing research and work with both of his reference collections* of Saxifraga sect. Ligulatae and Saxifraga sect. Porphyrion subsect. Porophyllum**, and said he 'more than fulfilled the criteria of the award'. The judging panel also recognised Adrian's wider contribution to horticulture, as both a National Plant Collection Holder since 2012 and the International Cultivar Registration Authorities' Registrar for Saxifraga since 2010. His published works were also celebrated, including his book 'The Complete Checklist for Porophyllum Cultivars' which is considered the definitive work on Porophyllum Saxifraga and is now in its third edition.
Simon Toomer, Curator of Living Collections at Royal Botanic Gardens Kew will give an overview of Adrian's work, and David Haselgrove, Chair of RHS Joint Rock Garden Committee, will present Adrian with his Brickell Award at Plant Heritage's stand (no. PH123). Adrian will be the proud recipient of an engraved medal and a certificate to commemorate his award win.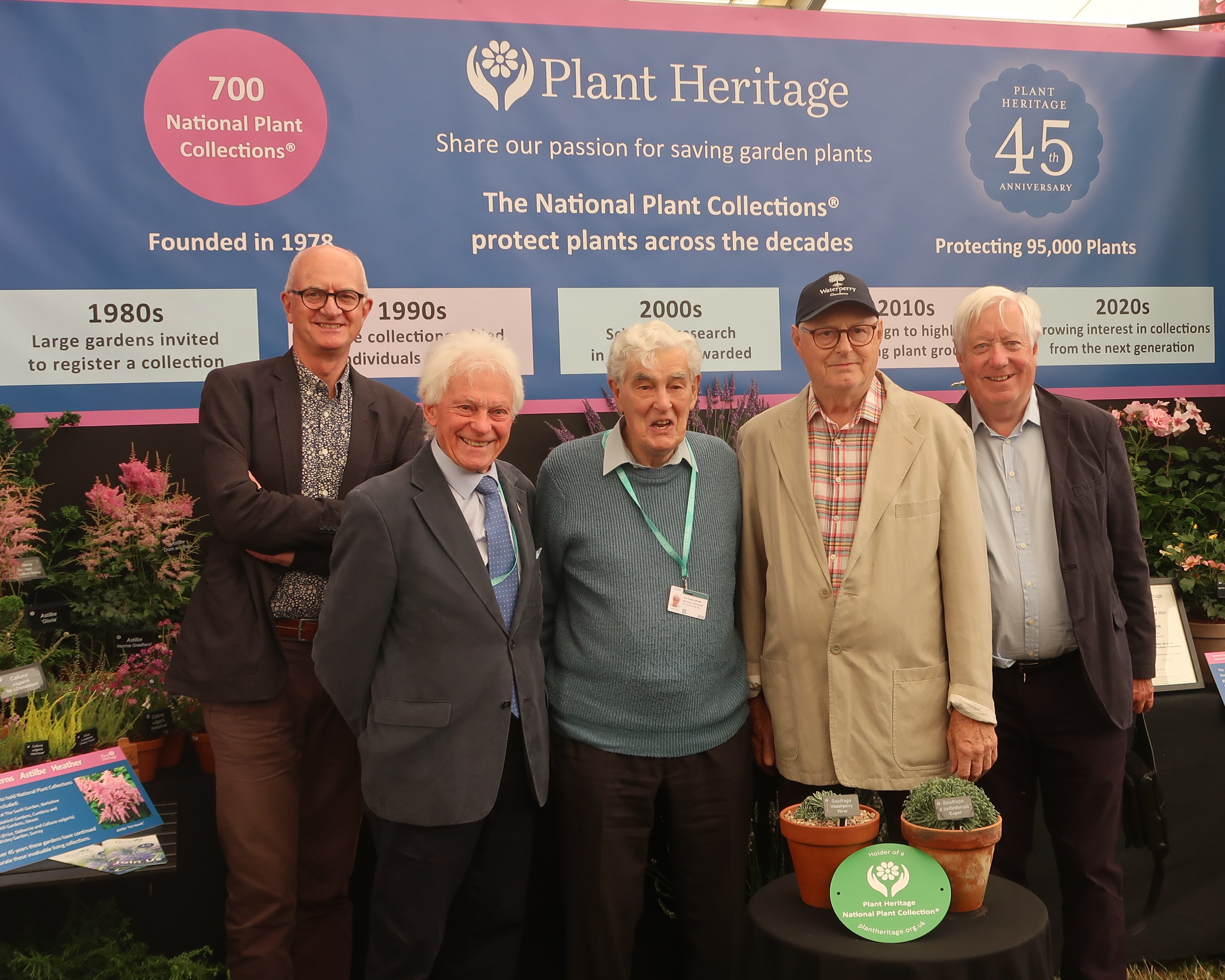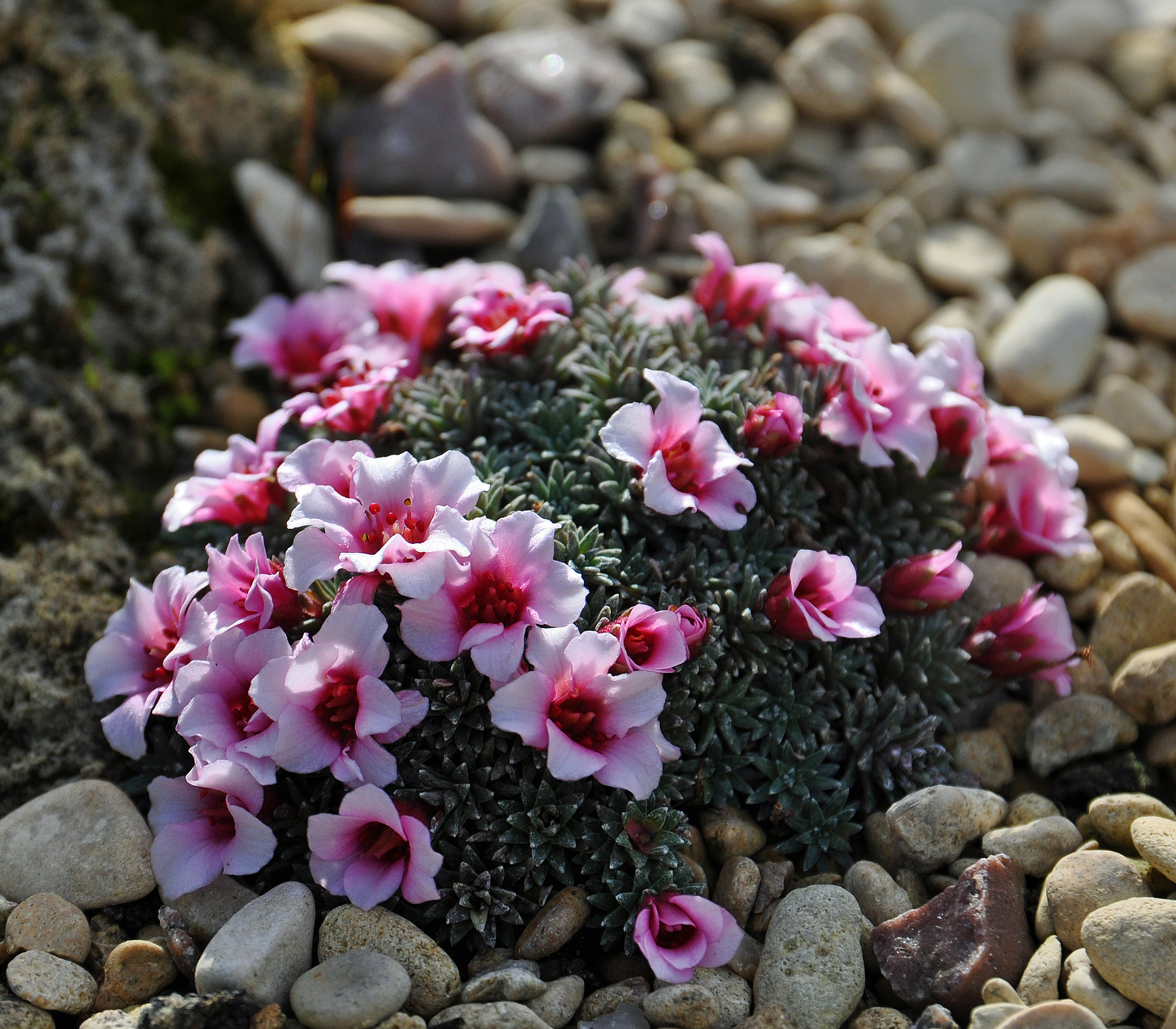 Adrian's two collections, which combined total over 900 different types of the alpine Saxifraga, are kept, maintained, and displayed at Waterperry Gardens in Oxfordshire. National Plant Collection status was first awarded to his Saxifraga sect. Ligulate collection in 2012, but the collection of Saxifraga sect. Porphyrion subsect. Porophyllum was accredited back in the 1980s.The pretty, mat-forming evergreen perennials are popular in rockeries, and boast small flowers which burst into shades of white, pink, yellow or red come spring. Despite being usually found in alpine regions of the Northern Hemisphere, they're successfully grown in temperate regions too and so are often seen in UK gardens as ornamental plants. They are sometimes known as 'rockfoils' or 'saxifrages'.
Adrian Young, winner of the Brickell Award 2023 says: "Winning the Brickell Award means a lot to me. I have known Chris Brickell for over 30 years and he has been instrumental in helping me with plant nomenclature, so receiving 'his' award is very special. Growing and studying Saxifraga for the last 45 years has been a real pleasure. In 1972 Valerie Finnis told me to go into the high mountains and see how the Saxifraga live. Wise words which I still remember today."
Since the age of 24 Adrian has been fascinated by growing alpines, an interest that was maintained throughout this working life. Adrian worked at Waterperry Gardens for many years under the guidance of mentor Valerie Finnis. When Valerie retired Adrian gamely took over the care of her Saxifraga collection, and during the 1980s brought many new cultivars to Waterperry to be trialled. Despite retiring in 2011, Adrian continues to care for the two collections and has been able to give more time to research, conserve and promote Saxifraga.
Adrian is a nomenclature advisor for Saxifraga cultivars, helping growers with the registration of new cultivar names, and has worked with universities who are researching the genus. His other award wins include the Alpine Garden Society's Kath Dryden award in 2016 and the Sir William and Lady Lawrence Award in November 2021 for 'National Collections of Saxifraga at Waterperry Gardens'.
As a small charity Plant Heritage relies on hundreds of dedicated volunteers to ensure their vital plant conservation work is possible. To find out more about Plant Heritage and how you can help, or how to become a Collection Holder, Plant Guardian, or member, visit www.plantheritage.org.uk .
*A 'Reference National Plant Collection' is a generic representation of a plant group with importance for both taxonomic reference and research.
**Saxifraga sect. Ligulatae spp. & cvs., Saxifraga sect. Porphyrion subsect. Porophyllum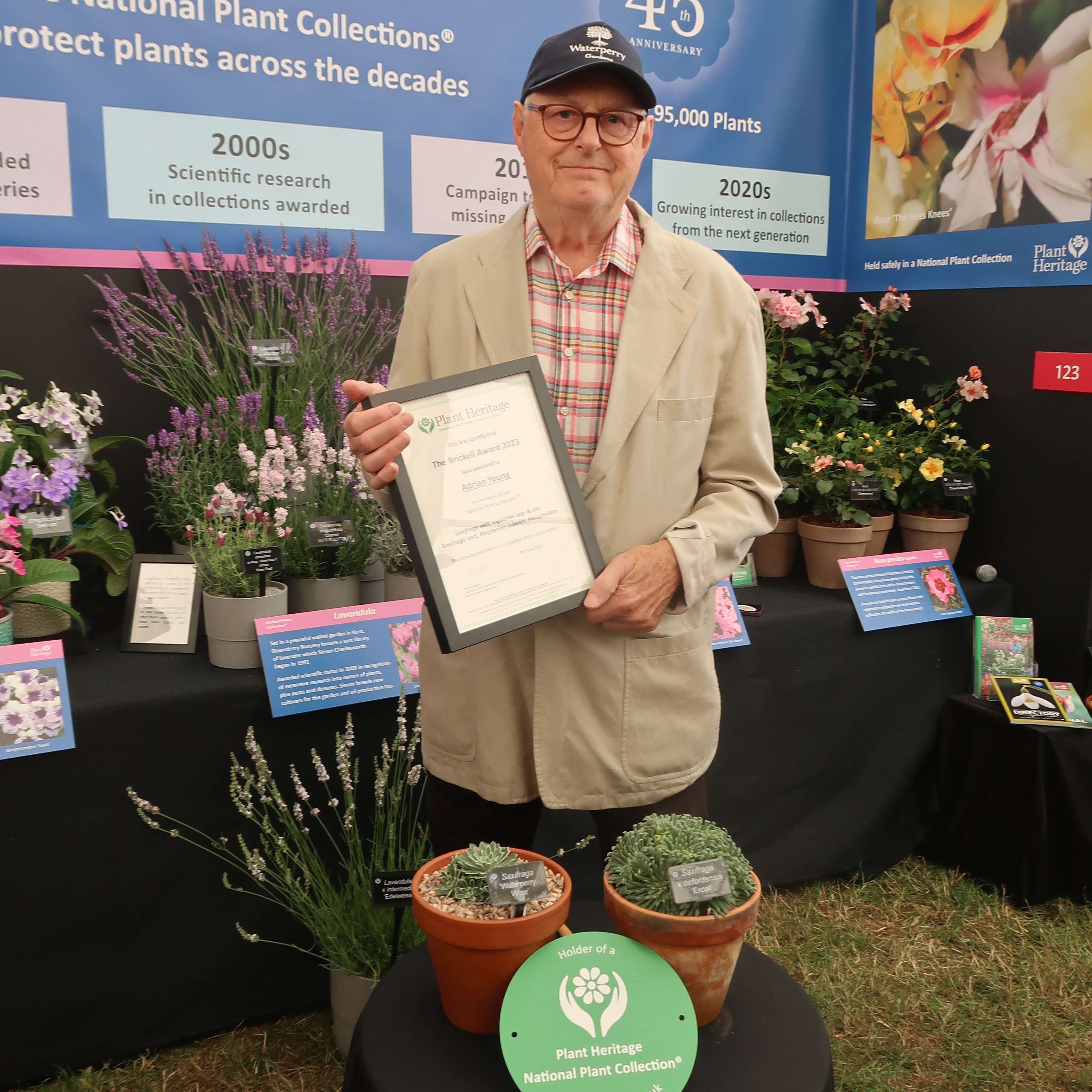 Gill Groombridge, Business Manager at Plant Heritage says: "We are thrilled to present Adrian Young with the Brickell Award 2023. Adrian's dedication to Saxifraga is exemplary and his ongoing search for historic cultivars, propagating them once found, and sharing plant material with others to prevent them from becoming lost from cultivation, is inspirational. This really embodies Plant Heritage's ethos of ensuring that cultivated plants - which play an increasingly important role in combating the effects of climate change - remain in our gardens, greenhouses, and homes for many generations to come. Adrian is a very worthy winner of the Brickell Award, and we look forward to working with him for many more years."
Latest news