Plant Heritage peat statement
Plant Heritage fully recognizes the value of peat habitats for biodiversity, carbon storage and water management and the need for their conservation. We support the transition to peat free growing media and the proposed dates set out in the government consultation of 2024 for retail and 2028 for professional use.  
However, we wish to see the industry prepared with suitable alternatives, at the required volumes, to not risk the integrity of the National Plant Collections®.  We also encourage the growing media industry to work with the specialist knowledge of collection holders in developing suitable alternatives. We will continue to provide training and support for National Collection Holders and members to help make the transition as soon as possible.  
We represent a diverse range of National Plant Collections and in recognition of the specialist work done in conservation by Collection Holders, believe there is a very limited exemption that should apply for peat obligate plants grown for conservation and research, until proven alternatives are available. A small number of plant groups are adapted specifically to peat bog habitats. Though research is ongoing, peat free alternatives are currently limited in their suitability for these plants and rare taxa could be at risk of being lost. Where plants are under threat in their native habitat, ex situ conservation may be critical for the survival of these threatened taxa.  
Peat free growing advice
RHS
The RHS website includes guidance on peat-free growing media https://www.rhs.org.uk/soil-composts-mulches/peat-free
Garden Organic
For Peats sake online course (self-guided) is free to access to anyone for the duration of 2022 https://gardenorganic.mylearningapp.com/shop/ or access via the Garden Organic website at https://www.gardenorganic.org.uk/events/online-self-guided-courses
The For Peats Sake campaign website is also a useful free resource & includes information on alternatives
Mike King, Dionaea and Sarracenia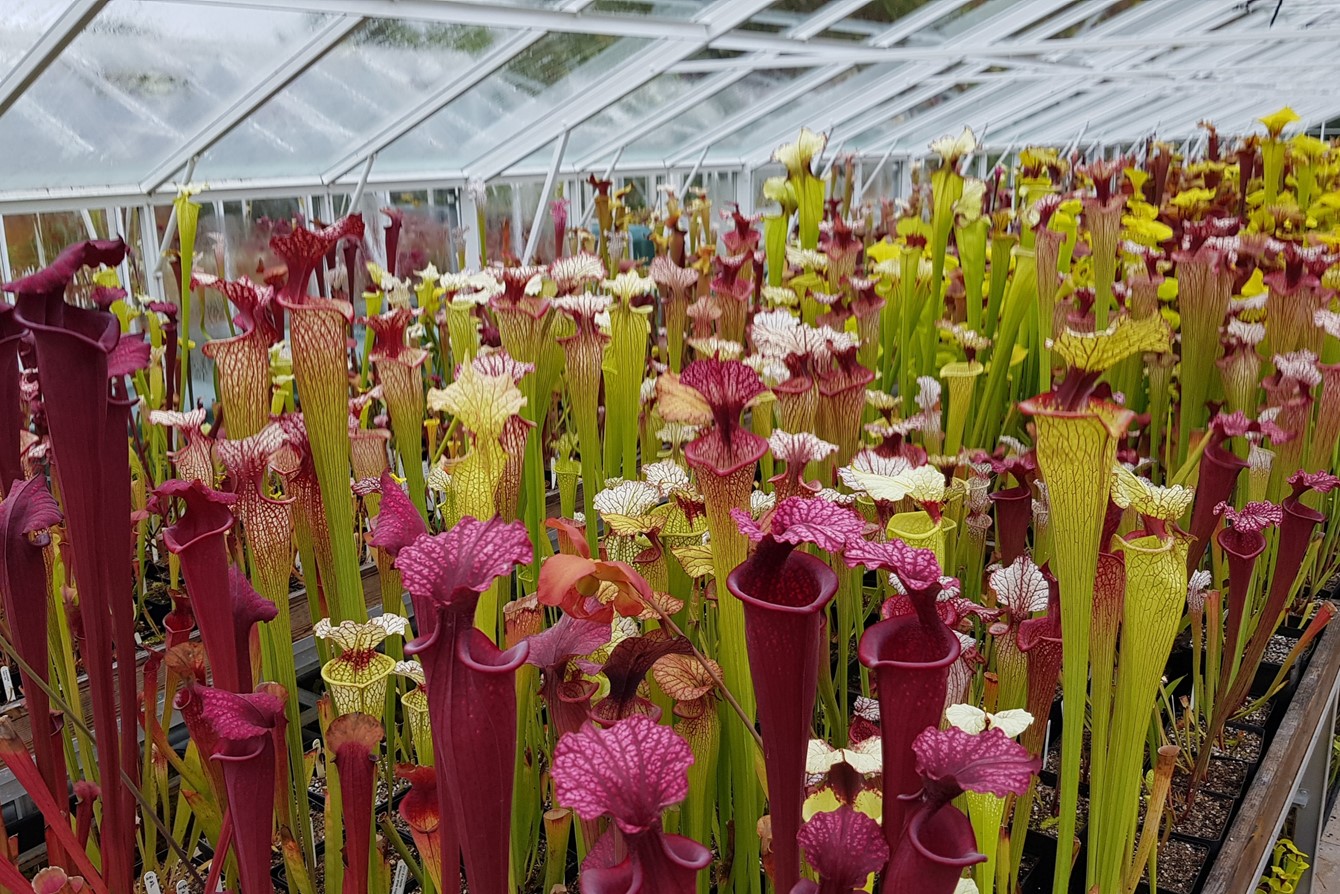 Mike has two Collections of carnivorous plants - some of the hardest to grow without the use of peat.
He has been experimenting over the years with various mixes to replace peat, with varying degrees of success - often due to the variability of the base ingredients. 
He has a peat free mix for his pitcher plants; "One part perlite, one part fine or coarse Cornish grit and two parts fine milled pine bark".
However, this year the bark was a different consistency and the roots dried out too much. He is experimenting with coir and also with growing sphagnum to add to this mix.
Robbie Blackhall-Miles, Banksia
Robbie grows a lot of peat-loving plants. As well as his Collection of Banksia, he also has Protea, Shortia and Vaccinium. Peat's texture, water holding capacity and long lasting nature, was seen as creating just the right environment for these plants. 
However, after trialling alternatives, he discovered they are just as happy in a mixture of well-rotted leaf mould and fine milled bark, with a helping of ground granite rock dust and occasional feeds of seaweed extract. The blueberry crop is now better than ever and some of his plants have been putting on three times more growth with this new potting mixture.