Plant Heritage highlights Peperomia at RHS Chatsworth Flower Show 5-9 June
Leading garden plant conservation charity Plant Heritage aims to encourage the establishment of well-documented and researched collections of garden plants through the National Plant Collection scheme.  At the RHS Chatsworth Show next week, the charity is showcasing regional National Collections highlighting the diversity of plants conserved within these collections.  Plant nurtured by our 'Plant Guardians' will be on show, and our 2019 'Missing Genera' campaign will be featured. There may even be a name plant competition!
National Collections on show include Sally Williams' collection of Peperomia,  in Derbyshire, which is a very large genus of over 1500 species found widely in tropical regions, although the largest diversity is concentrated in northern South America.  They grow in crevices on tree bark (epiphytic), around the bases of trees, or among rocks in arid locations. To cope with these varied conditions, they have evolved with an incredible diversity of habit and leaf size, shape, texture and colour.  Leaves may vary between thin and flat, to plumped up with a thick, transparent, upper surface. They absorb moisture from a humid atmosphere, so they do not have to rely on roots for water. Peperomia are suitable as house plants as they are adapted to the low light conditions found under tree canopies. The flowers are tiny, less than a third of a millimetre in diameter, and are pollinated by beetles and small insects.  See image.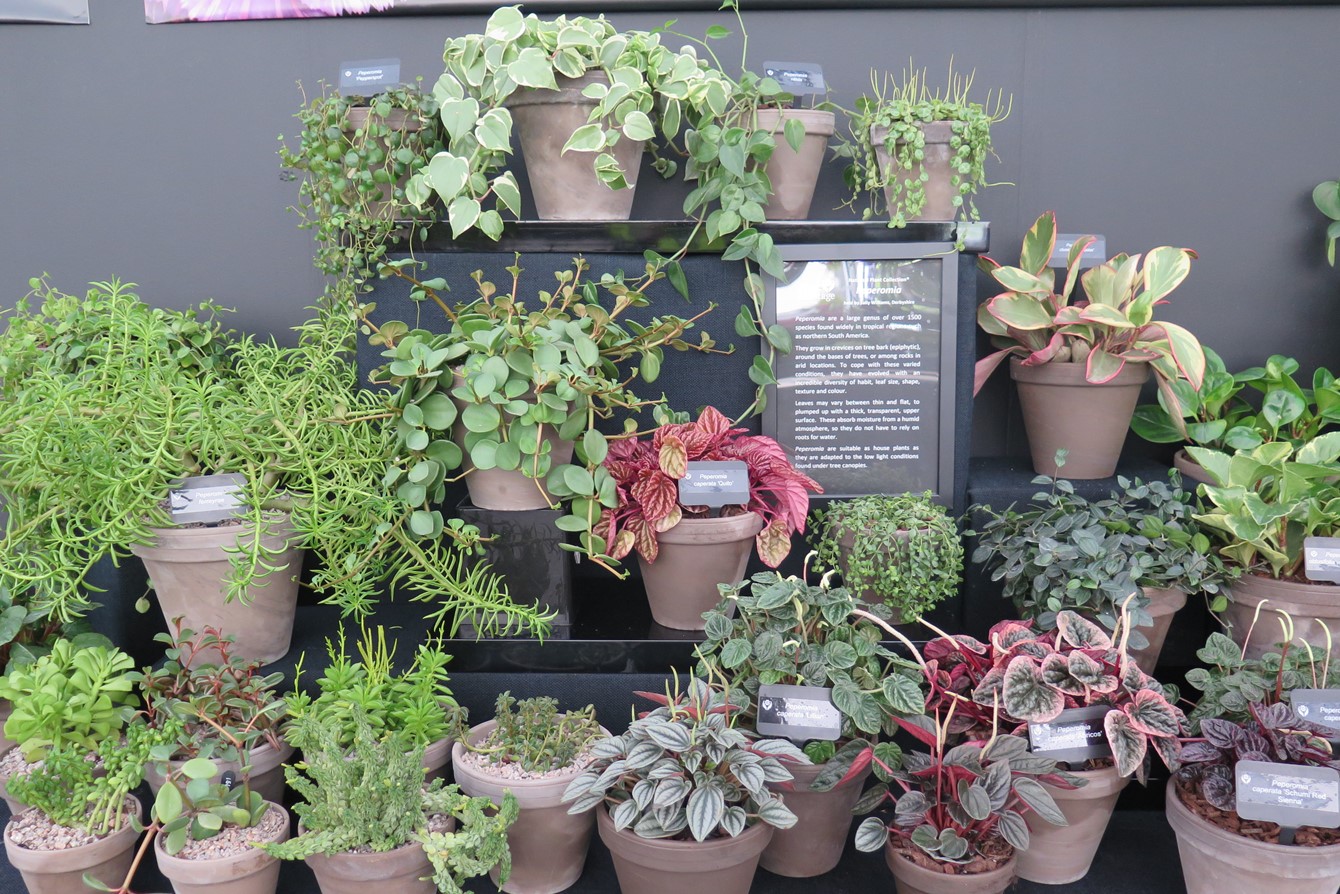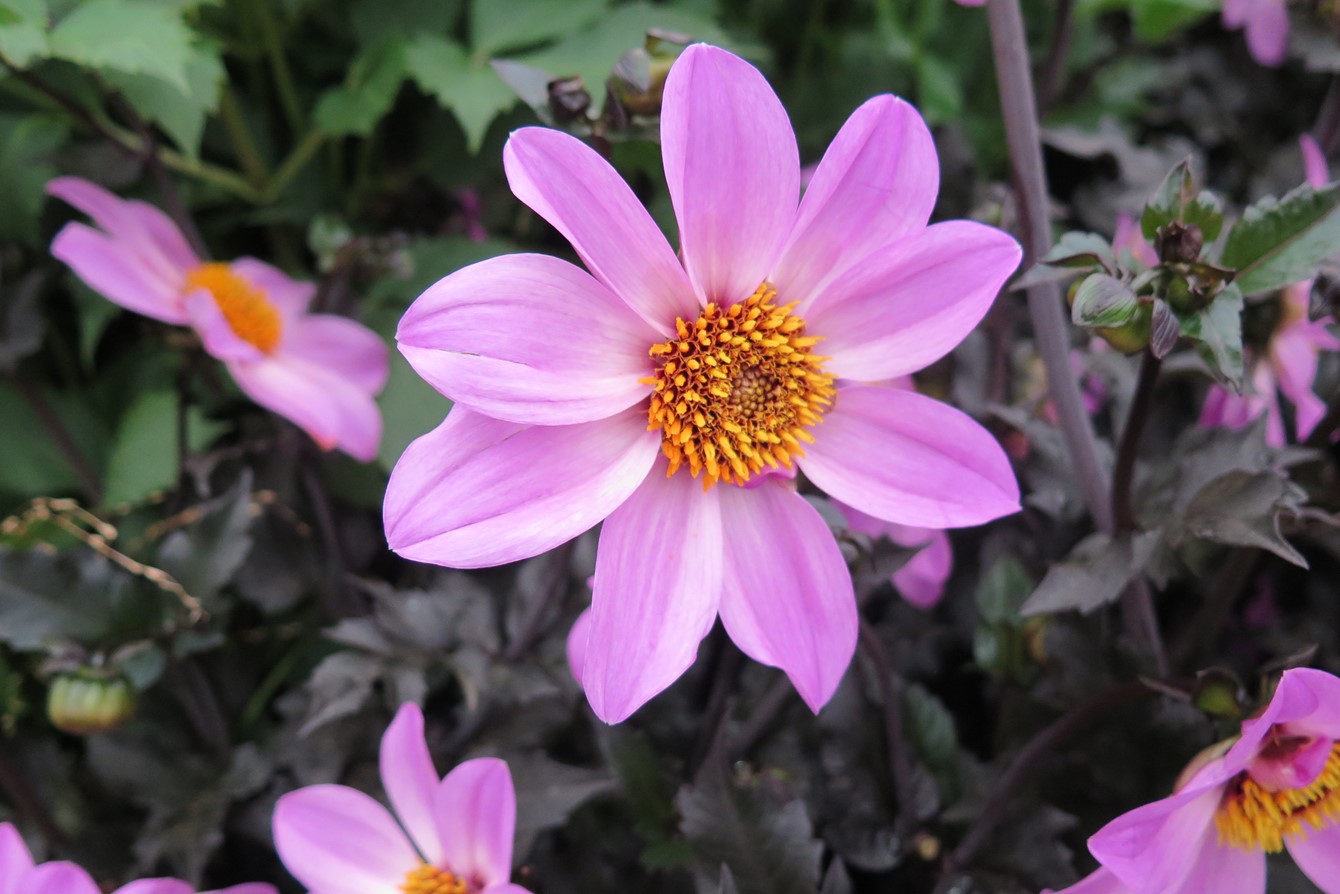 Other regional National Collections on show are: Eucomis from National Trust property Hardwick Hall, Rhubarb from National Trust Clumber Park, Solenostemon, held by Leeds City Council, Hosta from Staffordshire, Aechmea from Liverpool, Lithops and Haworthiopsis from Abbey Brook Cactus Nursery in nearby Matlock, Codonopsis from Lincolnshire, Agapanthus, Tulbaghia, Clivia from Hoylands Nursery in Yorkshire.  The National Plant Collections are at the heart of what Plant Heritage do, they are in effect living plant libraries representing the diversity of cultivated plants. Currently, there are more than 640 registered National Plant Collections.
Dahlia 'Chatsworth Splendour' – as named in a competition by Plant Heritage will be at the show.
Plant Heritage run a very important 'Plant Guardian' scheme, which allows people across the UK to become actively involved in conservation of cultivated plants from their own back garden, greenhouse, allotment or windowsill.  If you have a rare or threatened plant you can register as a Plant Guardian. Plant Heritage will assess whether your plant is rare in cultivation and if so the name of the plant will be listed on the Plant Heritage website, so people searching for it know that it is being kept safe by a members.  Even if the plant you are growing is not rare, it could be an unfashionable variety that has disappeared from the trade, or be at risk in its natural habitat. By propagating and sharing your plant, the hope is that it will eventually no longer be classified as threatened, and will be safe for future generations, so please join in. 
Notes to Editors:
For further press info on Plant Heritage please contact comms@plantheritage.org.uk
Plant Heritage is located at 12 Home Farm, Loseley Park, Guildford, GU3 1HS Tel: 01483 447540 
About Plant Heritage
Plant Heritage works to conserve the nation's garden plants for people to use and enjoy today and tomorrow.
We are a charity – please support our work by becoming a member, or donating to support the National Plant Collection Scheme
The National Plant Collections® are at the heart of what we do – living plant libraries representing the diversity of our nation's cultivated plants (plants that we have collected, bred and grown). They are created and curated by individuals or organisations  who are passionate about protecting the diversity of our rich flora.
Our pioneering Threatened Plants research helps us identify plants at risk of disappearing so we can aim to put conservation plans in place to protect them.
Our members are working together to grow, share and save the diversity of garden plants. They can become Plant Guardians® who grow and nurture one or more rare and unusual plants in their own house or garden. They can take part in our annual Plant Exchange, hard-to-find plants are shared for free to members across the nation.
Latest news