Incredibly rare Chaenomeles speciosa cultivar wins national horticultural competition
David Ford's Chaenomeles speciosa 'Contorta' is one of only a handful currently known still to exist in the UK, and now wins Plant Heritage's Threatened Plant of the Year 2023 competition.
The rare Chaenomeles speciosa 'Contorta' – an ornamental quince – has been crowned the winner of Plant Heritage's Threatened Plant of the Year 2023 competition.
To Plant Heritage's knowledge, the winning plant is thought to be only one of five of its kind still known to exist in the UK, and is also only one of two surviving Chaenomeles cultivars in the UK to have twisting branches and larger, more open flowers. It was announced as victorious at RHS Hampton Court Palace Garden Festival and belongs to National Collection Holder David Ford, who has cared for it since 2020.
Plant Heritage has also announced the winner of the competition's People's Choice award (as nominated by visitors to the world-renowned show and online), a pretty in pink Rhododendron 'The Dowager'. Cared for by the team at Leonardslee Lakes and Gardens in Sussex, this plant is from the recently accredited National Plant Collection of Rhododendron (Loder collection).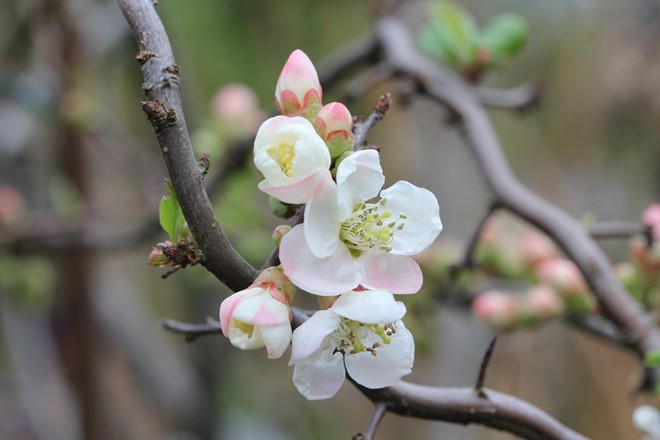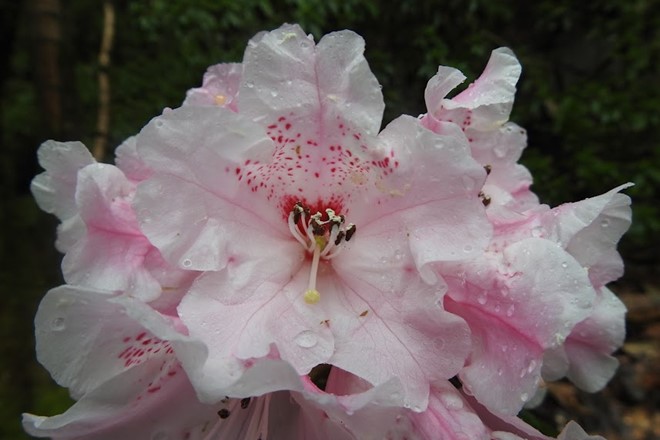 Chaenomeles speciosa 'Contorta' is one of the 'early group' of Chaenomeles, flowering from late January or early February until the end of March - or even later depending on the weather. Its flowers are delicate and white, tinted with an apple blossom pink, and it has unique twisting branches, making this cultivar unique both in flowering habit and form.
Gill Groombridge, Business Manager at Plant Heritage says: "The judges felt that David's Chaenomeles speciosa 'Contorta' was this year's worthy winner due to its rarity, distinctive form and cultural heritage having originated from Japan in 1929. Despite being known for its open form and well-displayed flowers - and having a long history as a cultivar in the UK - it has somehow lost its market position in recent years, making it increasingly rare."
"With its attractive flowers and contorted branches providing interest for the rest of the year, it could have commercial potential as an ornamental garden plant and be well suited to floristry. It is a very worthy and relevant champion today and would make an excellent addition to any garden."
Plant Heritage Chairman Cecilia Bufton announced David as this year's winner to the crowd gathered in Hampton's Floral Marquee, and David will receive a winner's certificate, an engraved vase and a special plant label. David will also be given a Passiflora watering can by Burgon and Ball.
David Ford, National Plant Collection Holder said: "I am delighted to have won the Threatened Plant of the Year 2023. Plant Heritage's raison d'être is to conserve cultivated plants because, without this effort, unique and valuable plants will be lost forever to gardeners and horticulturalists. Chaenomeles speciosa 'Contorta' is the perfect example of this philosophy since it is quite unlike any other Chaenomeles currently available in the UK."
"It also provides an important source of nectar for early bumblebees which no longer fully hibernate due to climate change. It is now more important than ever to conserve the cultivated plants that we have, as it is hard to predict which ones will be horticulturally and/or ecologically important in the future. I will happily continue to play my part with my National Plant Collection."
Since the competition was launched in 2020, numerous rare plants have been entered by those who share Plant Heritage's passion for plant conservation and want to ensure that garden plants remain in cultivation and don't become lost. Last year's winner Roz Cooper is helping to set up a new National Plant Collection too, by supplying material from her Paeonia 'Gleam of Light' to a fellow gardener. This is creating a National Plant Collection of historic peonies in Cornwall - a fantastic step forward in helping to rebuild numbers of this plant which epitomises early summer.
To see this year's 12 finalists, visit: https://bit.ly/TPOTYFinalists2023
Latest news